Where Can I Serve?
Jesus told us, his disciples, to make disciples of all nations. One of the most important values of this church is our mission to the world. It begins in our own community, and spreads overseas to every nation. Join us in serving in a variety of ministries.
Joe Leblanc Food Pantry
The Joe LeBlanc Food Pantry is a non-profit that has been serving families of Webster parish since 2007. When the organization was founded our vision was not to simply pass out food but to form relationships with those in need and that vision remains strong today. We are currently serving over 600 families a month and giving out an average of 25,000 lbs of food each distribution. JLFP is also a point of contact for emergency services such as Red Cross and Volunteers of America. Our distribution is the 3rd Saturday of every month from 9 am – 11 pm. Our office is located at 814 Constable Street, Minden, LA and is open MWF 9-2:30. For more information you can contact us at 318-465-6726.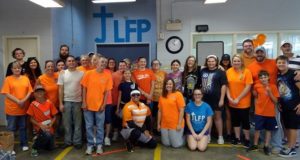 Matthew 25:35

For I was hungry and you gave me food, I was thirsty and you gave me drink, I was a stranger and you welcomed me, I was naked and you clothed me, I was sick and you visited me, I was in prison and you came to me.'
Deuteronomy 15:11
For there will never cease to be poor in the land. Therefore I command you, 'You shall open wide your hand to your brother, to the needy and to the poor, in your land.'
Worship Team
Our passion is leading others into a place where they can experience the love of God through worship. We do so every Sunday morning starting at 10:00am. However, Sunday mornings are only the beginning. We also do outreach, ranging from playing at organizations like Teen Challenge to playing at local festivals, such as Christock.
"Yet a time is coming and has now come when the true worshipers will worship the Father in the Spirit and in truth, for they are the kind of worshipers the Father seeks. God is spirit, and his worshipers must worship in the Spirit and in truth." John 4:23-24 (NIV)
Production & Media Team
From running slides to working the sound board to creating graphics, our team is responsible for the behind the scenes work of the service. To stay connected throughout the week, we run Facebook, Instagram, and Twitter pages. Creative and technical minds alike are welcome and no previous experience is required. Want to serve with us? Contact Michael Stanaland at mediaccam@gmail.com.
Hospitality Team
The purpose of the Hospitality Ministry is to offer the love of Christ to our guests and welcome them in such a way that they would be transformed from strangers into friends.

It is our purpose to include everyone into the family, by opening our doors and our hearts and giving them a place to call home.

We understand that it is difficult to break into a community when everyone is comfortable with their own routines, expectations and their own friends. Being a newcomer is like going to someone else's family reunion.

The Hospitality team is a servant-hearted group of men and women whose ministry is very vital to church life.

It also involves helping to provide meals for special events and needs,

whether you want to cook or help by giving towards the meal.

If you would like to become a member of this team please contact Angela Stanaland.
Don't forget to show hospitality to strangers, for some who have done this have entertained angels without realizing it!
Hebrews 13:2
"Welcome one another, then, just as Christ welcomed you, in order to bring praise and glory to God. Remember that Christ came as a servant…"
Romans 15:7
,8
Prayer Team
We are intercessors that are standing in the gap for our pastors, our leaders, and the body of Christ here and abroad. Our prayers is that we, as a body, will fulfill the call that God has given us to pray for one another. Our mission is taken from Ephesians 6:19: To pray at all times (on every occasion, in every season) in the Spirit, with all (manner of) prayer and entreaty. To that end keep alert and watch with strong purpose and perseverance, interceding on behalf of all the saints (God's consecrated people). We believe that as we pray, God will open doors for his ministers to preach boldly the gospel, which is the Good News of Jesus Christ.
Missions
World missions are built into our church's DNA. Pastor Paul resigned from a rural NLA church by phone while in London, England headed for Africa to lead a crusade. While ministering in Kenya and Tanzania he was not aware that when he returned to the states he would be preaching in a garage to a congregation of about 15. CCAM was born that day in August 2005. In Jan of 2006 he was back in Africa with the late Dr. T. L. Osborne. In '06 he held meetings in 6 different nations. "Here I am Lord, send me," said Isaiah. That is CCAM! "On my way Lord, I'll meet you there." From open air crusades, leadership seminars and conferences to bible schools, we do it all. CCAM also supports several world mission organizations and independent missionaries. Our church also goes on group mission trips to places like Mexico where we have founded and support several sister churches. CCAM believes that a church's spirituality should be judged by one thing alone. Jesus' final thought on this earth was "Go into all the world" (Mark 16:15) World missions are the vision our church was founded on and our pastor will not rest until all the world knows or until he sees Jesus.