Our Mission & Vision
To be a world outreach center that serves our Community, our country, and the mission fields of the uttermost regions of the world.
To spread the Word of God to every nation on earth! Which means we are called not only to our church; but to the city of Minden, LA and surrounding communities.
Pastor Paul is also committed to visiting other countries such as Tanzania, Yucatan, Brazil, and many others. He plans to be spreading the Gospel of Jesus Christ, in various countries, on a monthly basis for 10 out of the 12 months in a year. While he is out of the country, Pastors Greg and Angel Lee will pastor here at home.
We are a nontraditional, multi-cultural, and multi-denominational church that welcomes anyone who loves the Lord, believes and obeys the Bible, holds its standards, and has a desire to know Him.
All are welcome.

Pastors Paul and Ginger Gray,

Senior Pastors
Pastor Paul has a passion for souls and a vision for the world. He and Pastor Ginger are the founding pastors of CCAM and have served here for over 10 years. Pastor Paul has an associates degree in Biblical Studies from Covenant Theological Seminary and an associates in Practical Ministry from Wagner Leadership Institute. Pastor Ginger has a bachelor's degree in Early Childhood Education from Northwestern State University and is currently a Kindergarten teacher. They have 3 amazing children. Pastor Paul has ministered in 28 nations around the world thus far and has no plans to slow down. He is on the board of JLFP, Global Network Ministries and is chairman of the United Christian Homeless Shelter to name a few. He is passionate about helping people reach their highest potential for the Kingdom. Together our Pastors lead CCAM with passion and a heart for taking the church outside of it's four walls and into the farthest reaches of the world.
Pastors Greg and Angel Lee, Co-Pastors
Greg Lee and his wife, Angel, are both natives of the Minden area. The have served in various facets of ministry for over 15 years and are now Associate Pastors at CCAM. It is the heart of their ministry that every believer see themselves as an integral, valuable part of God's plan; and are empowered and equipped to take on the world for Christ. In addition to their work at CCAM, Greg is currently the Senior Vice President for Citizens National Bank, and Angel is a Secondary Science teacher at Minden High School. They are both ordained under David Divelbiss Ministries and are graduates of In Christ International Bible College. Their most important ministry is raising their three wonderful children, Mazie, Joseph, and Zoe.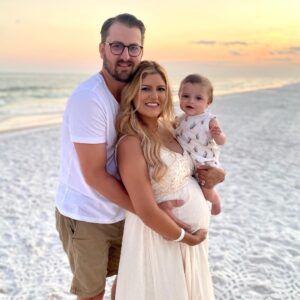 Pastors Joel and Serena Gray, Youth Pastors
Joel and Serena Gray have been married since June of 2016. They have one son, Isaac and another child on the way. Joel is currently working at Louisiana Land Bank in Shreveport, while Serena organizes all things MOVE and works as the director of the Webster Parish Tourism Department and serves as our Praise and Worship Leader. They became the CCAM youth pastors in October of 2022. They have a heart to serve their community in anyway they can! They are honored to be able to impact the lives of youth.

Pastors Jeremy and Kristin Utphall, Children's Pastors
Jeremy and Kristin Utphall have been married since 2005. They are both Minden transplants; Jeremy is from Milwaukee, Wisconsin and Kristin grew in Leesville, Louisiana. They began attending CCAM in late 2014 and have served in every area of children's ministry; they also served in Move Student Ministries through 2018. They are parents to three amazing children: Caitlyn, Stephen and Asher Elisabeth. They are involved in their community, volunteering with JLFP, Webster Parish CASA and the Minden Charity Classic. They have also been involved with Air Force community projects, such as the Long Rangers Foundation and the Key Spouse Program. Jeremy and Kristin have a heart to serve people, but most importantly, their hearts are with the "tiny humans."